12 Bushel Recycling Carts are commonly used in places where aluminum can and plastic bottle recycling is a frequent practice. Universities, Corporations, Charitable Organizations, Hotels, Day Cares, Health Fitness centers and many other places fulfill their recycling container needs with a 12 Bushel recycling cart from Granger Plastics. The 12 Bushel Recycling Cart is mobile, yet durable for everyday recycling collection use. The smooth interior of the 12 Bushel Recycling Cart allows for the container to be easily cleaned and disinfected after each use! The durable 12 Bushel Poly Recycling Carts make recycling collection in nearly any facility an ease! The 12 Bushel Recycling carts are tough, rugged and durable for many years of use in nearly any environment! The new addition of a durable, polymer base, allow for the 12 Bushel Recycling cart from Granger Plastics to operate in areas, where competitors carts with Plywood bases are commonly known to fail. While plywood bases on recycling carts commonly break, splinter and create contamination issues, the poly base recently introduced by Granger Plastics allows for rugged use, easy cleaning and no contamination issues. The Granger Plastics 12 Bushel Recycling Carts come standard with a 5" caster to provide easy mobility and turning.
| | | | |
| --- | --- | --- | --- |
| Available from 100% recycled LLDPE | Compact 12 Bushel design fits tight corners | Smooth interior walls and finger safe edges | Smoother Interior of 12 Busehl Laundry Cart |
Nestable
Easily cleanable, no sharp corners
5" caster standard
Available in USDA/FDA approved materials & recycled materials
Chemically resistant- Call for chemical compatible list
Colors at no extra cost! (Minimum Quantities apply)
Available with a wide range of drains and fittings
Available with anti-microbial and anti-fungal protection
Capacity (Pounds) 600
15 Cubic Ft. Capacity
Outside Top 40" L x 29" W
Bottom ID 33"L x 24"W
Overall Height 36" (with 5" casters)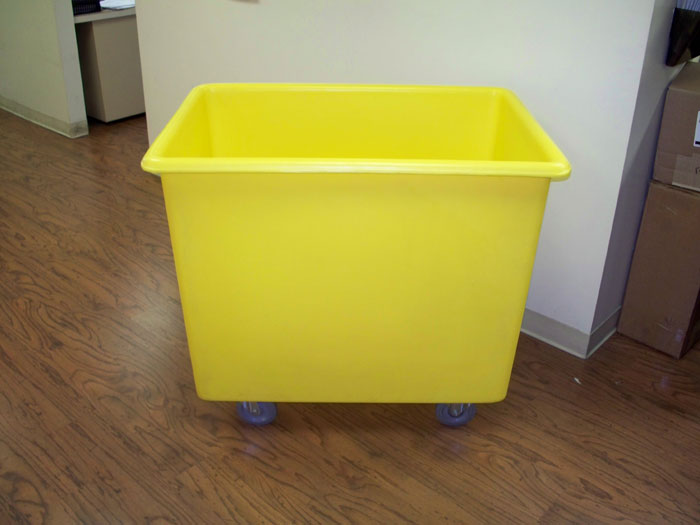 12 Bushel Recycling Cart manufactured by Granger Plastics
Like the other recycling carts manufactured by Granger Plastics, the 12 Bushel Recycling Cart can be stenciled to have your company's name, department, location, use or nearly any text stenciled to the outside of the container. Also, permanently molded in graphics are an option for the 12 Bushel Recycling Carts (minimum order & art charges apply).
Recycling Cart Color Options
| | | | |
| --- | --- | --- | --- |
| Black | Cool Grey | Wine | Cardinal Red |
| | | | |
| --- | --- | --- | --- |
| Brown | White | Purple | Custom |
The 12 Bushel laundry carts can also be stenciled to have either your corporate name on the carts, or maybe you need a certain department name on the cart. Whatever your stenciling needs may be, Granger Plastics can help you with your stenciled 12 Bushel Laundry Cart needs!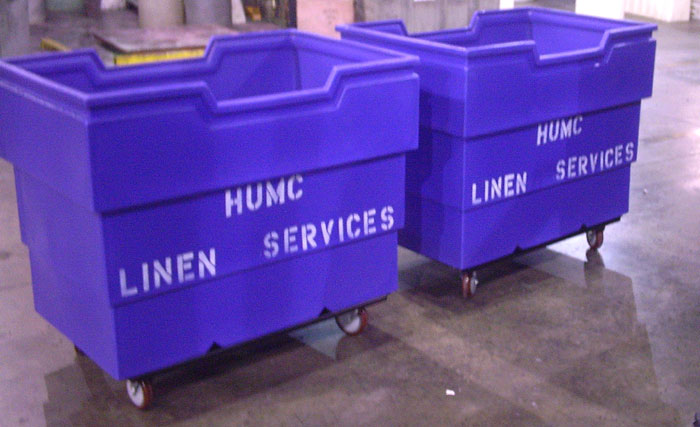 (2) 16 cubic foot capacity carts custom stenciled for customer
Whether you need a 12 Bushel cart, or a 40 cubic foot capacity Bulk Storage container, Granger Plastics has a solution for your material handling needs! Offering a range of off the shelf Laundry, Recycling and Hospital Carts, Granger Plastics also custom molds a number of Laundry carts for a number of the major players in the material handling industry! Look no further for your partner in Rotomolded Laundry Carts! Granger Plastics is the answer!
Laundry Carts | Recycling Carts