12 Bushel Laundry Carts are easy to handle and easily moved. They are smaller in size in comparison to 16 Bushel and 20 Bushel laundry carts, so they offer service in areas where larger carts cannot manuever as easily. They are great for laundry and linens in places like small businesses, schools, hospitals, day cares and numerous medical facilities to say the least. The 12 Bushel laundry carts feature a smooth interior for easy cleaning and no worries about snagging any laundry or linens! The 12 Bushel laundry cart by Granger Plastics comes standard with (2) 5" Coloson swivel casters and (2) 5" Colson rigid casters. Numerous other caster configurations are available upon request.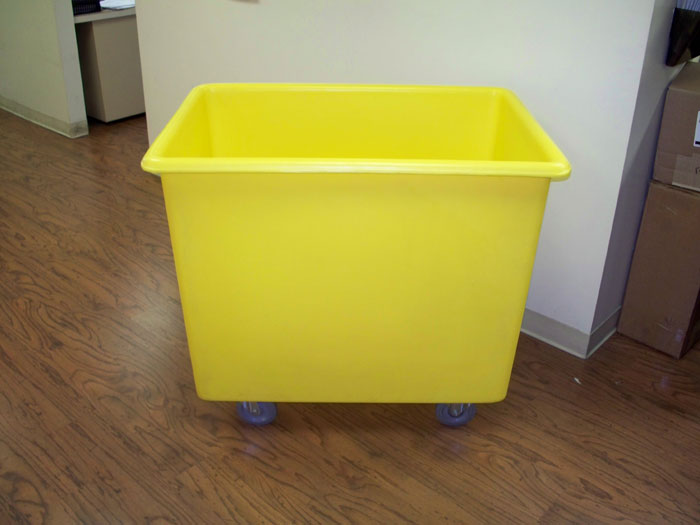 | | |
| --- | --- |
| Poly 12 Bushel Carts offer superior use and durability in comparison to canvas and vinyl bushel carts. While canvas and vinyl carts offer "cheap prices" they also typically offer limited life spans, limited use and poor representation of a corporate identity. A number of hospitals, uniform services and a number of other facilities will not even allow their staff to purchase canvas or vinyl bushel cart units, due to the limitations the carts experience. Notice how the vinyl bushel cart to the right is torn, ripped and generally looks bad. | awful looking vinyl laundry Cart |
Nestable
Easily cleanable, no sharp corners
5" caster standard
Available in USDA/FDA approved materials & recycled materials
Chemically resistant- Call for chemical compatible list
Colors at no extra cost! (Minimum Quantities apply)
Available with a wide range of drains and fittings
Available with anti-microbial and anti-fungal protection
Capacity (Pounds) 400
15 Cubic Ft. Capacity
Outside Top 40" L x 29" W
Bottom ID 33"L x 24"W
Overall Height 36" (with 5" casters)
Rotomolded 12 Bushel Laundy Carts, by Granger Plastics, are extremely durable and designed for years of trouble-free service. The 12 Bushel Laundry Carts, feature smooth interior walls, high quality 5" Colson Casters and a 400 pound capacity. The 12 Bushel Laundry Cart by Granger Plastics, offers very distinct advantages over many 12 Bushel Laundry carts, due to the commonly used, low end, plywood bases, used by a number of other manufacturers. The plywood bases on Laundry carts commonly splinter, fracture and ultimately break. The plywood bases also commonly suffer from contamination issues, that prevent them from being used in a number of medical facilities, such as doctors offices, hospitals, day cares and more. The 12 Bushel Laundry cart is also available with special additives that protect the Poly 12 Bushel Laundry Carts against microbes and micro-organisms that cause the spread of germs and disease.
"Green" Recycling Carts

Available from 100% Recycled LLDPE

Fits tight doorways!

Compact 12 bushel design fits tight corners!

Smooth interior walls and finger safe edges

Smoother Interior of 12 Busehl Laundry Cart
Laundry Carts to Match Your Corporate Identity!
The 12 Bushel Laundry carts are offered in a wide variety of stock colors and as well as custom colors. When matching your corporate identity is important, Granger Plastics will work closely with the colorant suppliers to the plastics industry to offer a critical, custom color match to match your organization or schools colors, insignias or logos. See the wide range of standard color options below:
Laundry Cart Color Options
| | | | |
| --- | --- | --- | --- |
| Black | Cool Grey | Wine | Cardinal Red |
| | | | |
| --- | --- | --- | --- |
| Brown | White | Purple | Custom |
The 12 Bushel laundry carts can also be stenciled to have either your corporate name on the carts, or maybe you need a certain department name on the cart. Whatever your stenciling needs may be, Granger Plastics can help you with your stenciled 12 Bushel Laundry Cart needs!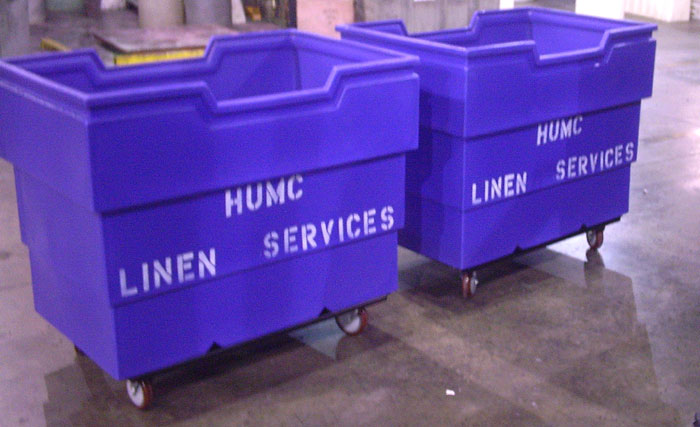 (2) 16 cubic foot capacity carts custom stenciled for customer
Whether you need a 16 Bushel cart, or a 40 cubic foot capacity Bulk Storage container, Granger Plastics has a solution for your material handling needs! Offering a range of off the shelf Laundry, Recycling and Hospital Carts, Granger Plastics also custom molds a number of Laundry carts for a number of the major players in the material handling industry! Look no further for your partner in Rotomolded Laundry Carts! Granger Plastics is the answer!
Laundry Carts | Recycling Carts